Royal Monastery of Guadalupe World Heritage
Legend has it that in the early 14th century, in the valleys of Las Villuercas, the cowherd Gil Cordero was looking for a lost cow from his herd, which he found dead. When he went to quarter the animal, it came back to life. At that moment, the Virgin Mary appeared to him and told him to spread the word of the miracle and dig in the same place where he had found his dead cow. There, he found a statue of the Blessed Virgin, and its reputation as being miraculous spread quickly.
King Alfonso XI heard the miraculous stories told about the Virgin and became devoted to Our Lady of Guadalupe, entrusting himself to her before the famous Battle of Río Salado, where he emerged victorious despite having fewer troops than the enemy. The grateful king went on a pilgrimage to Guadalupe and granted its humble church privileges and income that made it possible to build a sanctuary.
Guadalupe's fame spread quickly and it soon became the devotional hub of the entire southern Iberian Peninsula. Hieronymite monks arrived a short time later, and they looked after the sanctuary from 1389 to 1835, although several decades passed without the protection of any religious order, until the Franciscans assumed responsibility for the monastery in 1908.
On 12 October 1928, the Virgin of Guadalupe was canonically crowned Queen of Spain, while in 1907 she had been named the patron saint of Extremadura.
Since then, the monastery has become the spiritual point of reference in Extremadura, which celebrates its saint's day on 8 September, the same day as the Day of the Autonomous Community of Extremadura.
The monastery's main façade is Mudéjar in style, as is one of its cloisters; the other is Gothic. The monastery is home to important illuminated manuscripts; needlework; reliquaries; pictorial works by the Extremaduran artist Zurburán, El Greco and other painters; sculptures; works in precious metals and bronze, forming a real treasure trove that houses several museums within it: the needlework museum, the illuminated manuscript museum and the painting and sculpture museum.
The 15th-century church is Gothic in style, with a choir and stalls by Manuel de Larra Churriguera. The statue of the Virgin of Guadalupe dates from the 12th-13th centuries. The sacristy holds eight paintings by renowned artist Francisco de Zurburán.
The Royal Monastery of Santa María de Guadalupe was declared a National Monument in 1879 and a UNESCO World Heritage Site in 1993.
Weather
Guadalupe
1Oct

19 ºC
34 ºC
2Oct

18 ºC
34 ºC
3Oct

19 ºC
33 ºC
4Oct

18 ºC
31 ºC
5Oct

20 ºC
32 ºC
6Oct

20 ºC
34 ºC
If you like Royal Monastery of Guadalupe World Heritage you will like this too...
More things you can find in Villuercas Ibores Jara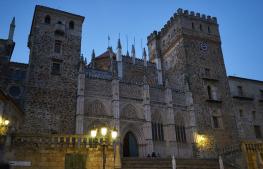 Guadalupe is known for its famous monastery, but the town is home to other architectural, town-planning and cultural landmarks that resulted in it